We have covered the Enbridge Corporation (ENB) saga previously. Briefly, our take on this was that ENB is undervalued and a highly underrated future dividend aristocrat. We covered the Federal Energy Regulatory Commission (FERC) decision when it came out mid March and believed that ENB had several alternatives to ensure that Enbridge Energy Partners (EEP) and by extension Enbridge Energy management LLC (EEQ) would not suffer as a consequence of the decision. One of the six suggestions was that ENB would simplify the corporate structure by absorbing all its babies into the fold. That is exactly the path ENB decided to go. A few days ago the offer for Spectra Energy Partners (SEP) was boosted by 9.8%. We now examine what is likely to happen next with EEP & EEQ.
What has changed since the original FERC decision
FERC clarified mid June on its initial ruling with a key component being that the accumulated deferred income tax (ADIT) would not have to refunded to customers.
Although the final rule maintains the requirement to file the FERC 501-G, the final rule makes adjustments to the proposed form, including automatically eliminating the accumulated deferred income tax from a pipeline's cost of service when the form enters a federal and state income tax of zero for pipelines that are non-tax paying entities. This adjustment is consistent with the Order on Rehearing of the Revised Policy Statement in Docket PL17-1-001 issued concurrently with the final rule. The final rule also encourages pipelines to file an addendum to the FERC 501-G to reflect their individual financial situation.
This has an impact of removing uncertainty about any potential refunds for past service overcollection on the tax front. It also increases the net equity invested by the MLPs and hence increases the return on equity threshold in our opinion. For those unaware, this is the threshold that FERC has deemed "fair" and would not allow MLPs to earn less than this return via reducing their rates. We believe this was a key component in ENB increasing SEP's offer by 9.8%. ENB already owns 83% of SEP and hence the boost was a rather marginal hit to ENB.
Impact to EEP & EEQ
During the second quarter conference call ENB made the preliminary assessment that mid June FERC announcement would be marginally positive for EEP & EEQ.
With respect to the impact of the FERC policy change on EEP, our early assessment is that, in isolation, the ability to eliminate ADIT from the forecast cost of service and to add it to rate base would generate incremental DCF of approximately CAD 30 million per year. However, this would only partially offset the negative impact of U.S. tax reform and the elimination of the tax allowance for MLPs, which we previously estimated at approximately CAD 120 million per year.
Previously ENB had guided that EEP would produce a DCF coverage of 1.0X and this will likely boost DCF coverage to the range of 1.04-1.07X. While not the biggest boost, it is significant for better interest coverage and funds for Line 3 replacement.
What is fair value for EEP/EEQ?
That is what it all comes down to. Before we show you what we think we ask that you keep an open mind about our numbers. To start with let's look at ENB's debt to EBITDA.
Currently hovering near the 5.5X mark, it should hit 5.0X at year end after some asset sales.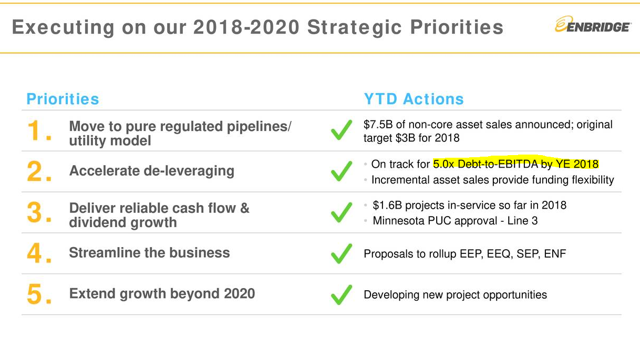 Source: ENB Q2-2018 slides
Here is where EEP & EEQ stand.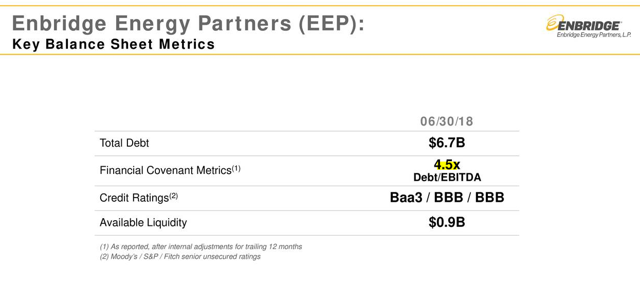 Now this number is an annual number and will trend higher as the reduction from FERC hits but will be under 5.0X at year end 2018.
EEP & EEQ currently distribute $1.40/share a 1.04-1.07X coverage gets to a DCF of $1.50/share. ENB has guided for about $3.30 (this is USD) in DCF per share and the shares are thus trading close to 10.3X DCF.
Based on the acquisition share exchange proposed EEP would be sold for $10.80 and EEQ at $10.10. Obviously both are trading higher than that, perhaps pricing in a better offer. But even at today's prices EEP is trading at 7X DCF. The question therefore is, why would you sell an asset to ENB at 7X DCF while being paid at 10X DCF currency? Now if the exchange was made when ENB itself was trading at the same multiple, it might make sense.
There are two other considerations, debt to EBITDA and growth profile. The first metric is similar for both and likely better for EEP/EEQ as shown above. ENB does have a superior growth profile but a big part of its growth is the line 3 replacement with EEP/EEQ. So the minimum fair value for us would be where EEP/EEQ gets the same DCF multiple as ENB.
Now obviously as ENB increases the price for EEP/EEQ, its stock is likely to fall. Based on that the absolute minimum that shareholders should accept is a 9X multiple for both EEP/EEQ, which would put shares at $13.50.
Reasons to reject regardless
There is substantial room for EEP/EEQ to improve their metrics from here. The first is simply through documenting the full impact of the FERC rule. We think ENB is likely being conservative on the $30 million estimate. The second is through corporate conversion. Post conversion, EEP/EEQ would have a big tax shield and DCF should approach close to the $1.70 mark. For a boring utility like business with a virtual monopoly we would be hard pressed to value this under 10X DCF or $17/share. By rejecting the offer investors would force ENB to either pay the full amount or simply convert EEP/EEQ to corporate status. Unlike in the case of SEP, EEP/EEQ shareholders do have substantially more leverage.
The proposed merger transaction will be subject to the approval of holders of a majority of the outstanding SEP common units.

The proposed EEP merger transaction is subject to the approval of holders of 66⅔% of the outstanding EEP units. The proposed EEQ merger transaction is subject to the approval of holders of a majority of the outstanding EEQ listed shares, other than Enbridge and its affiliates.
Clearly a blockade here is possible with retail holding a lot of EEQ shares.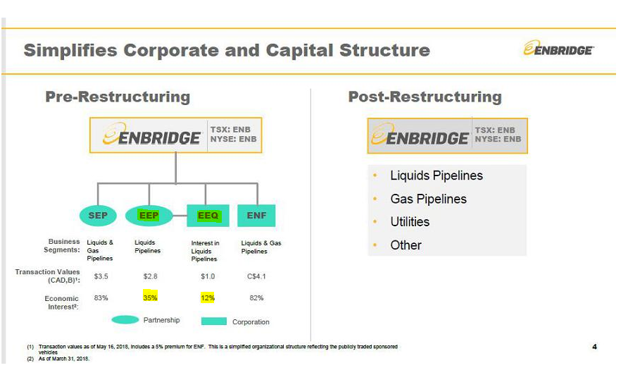 Source: ENB presentation
One interesting aspect of this corporate conversion would be that EEP/EEQ would reduce Enbridge Income Fund Holdings Inc revenues (OTC:EBGUF) as the total revenues on the mainline are fixed and currently the FERC decision is essentially enriching EBGUF at the expense of EEP/EEQ.
Trades
Currently EEP holds a premium to EEQ. There are reluctant shareholders in the EEP shareholder group who are working hard at avoiding the taxes that come with the sale. We think however that a sale to ENB or a corporate conversion is inevitable. Selling EEP and buying EEQ would be the best way to get the votes to block ENB's acquisition attempt as EEQ is held far more by non-institutions. It would also get the potential further upside if ENB is ultimately forced to recognize EEP and EEQ shares as equals (which they actually are based on the 10-K). The same additional upside would also be realized on corporate conversion by EEP itself. Hence trading your shares now seems a good way to capture an additional 4% with no downside.
On ENB itself, we were very bullish in mid March but we got defensive as the stock hit $36. We covered our cash secured puts,

as well as sold calls against our long position. The rationale was that higher bids were coming for SEP (which happened) and EEP/EEQ and those would pressure ENB lower in the shorter term. We were happy capturing 3% extra yield for 2.5 months.
Conclusion
We get all advantages associated with the roll-up and we think ENB is undervalued here. But we just don't see the rationale of throwing away great assets at a ridiculously low price just because ENB thinks it is fair. If ENB wants EEP/EEQ, it has to explain why a corporate conversion fails to give us the same advantages as rolling into the behemoth ENB. At the minimum we would like an estimate of what the 5 year DCF profile would be post a stand alone corporate conversion and what kind of dividends could be paid while funding Line 3. In the absence of that if ENB wants EEP & EEQ…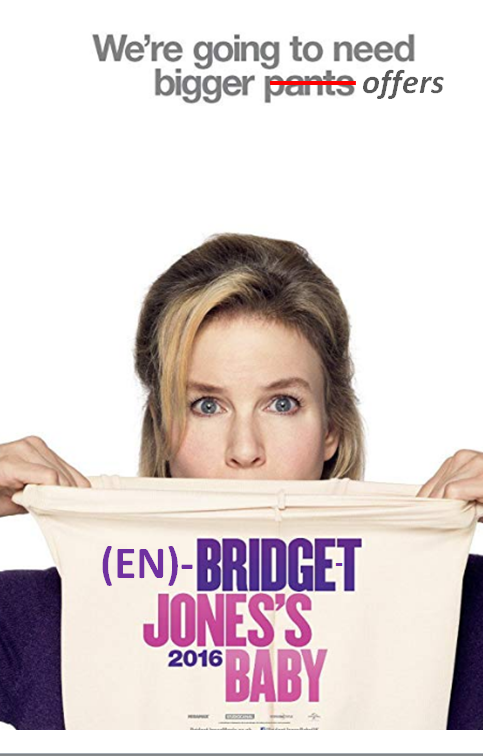 For more analysis such as this, along with recommendations for binge watching on Netflix, please consider subscribing to our marketplace service Wheel of Fortune.
Disclaimer: Please note that this is not financial advice. It may seem like it, sound like it, but surprisingly, it is not. Investors are expected to do their own due diligence and consult with a professional who knows their objectives and constraints.
Seeking Alpha has changed its policies. Previously "following" someone required a ritualistic commitment and an offering of not less than 4 oxen or 3 breeding horses. Now, all it takes is one click! If you enjoyed this article, please scroll up and click on the "Follow" button next to my name to not miss my future articles. If you did not like this article, please read it again, change your mind and then click on the "Follow" button next to my name to not miss my future articles.
Disclosure: I am/we are long ENB, EEQ.
I wrote this article myself, and it expresses my own opinions. I am not receiving compensation for it (other than from Seeking Alpha). I have no business relationship with any company whose stock is mentioned in this article.