It's taken Tableau (DATA) nearly two years to recover to the >$100 price mark, after a terrible Q4 earnings release and warnings on deceleration in February 2016 sliced shares in half. But recover it did, and Tableau's subscription business has never looked stronger as the company has spent the better part of the last two years refocusing its business model on recurring deals, not the large one-time license deals that it's known for (Tableau Server is a notoriously expensive product that can cost several thousands of dollars per seat for a perpetual license).
Clearly, Tableau has had worse quarters than this one. Shares of the big data visualization company are only down about 5% after reporting Q2 results, despite beats to both the top and bottom line in Q2: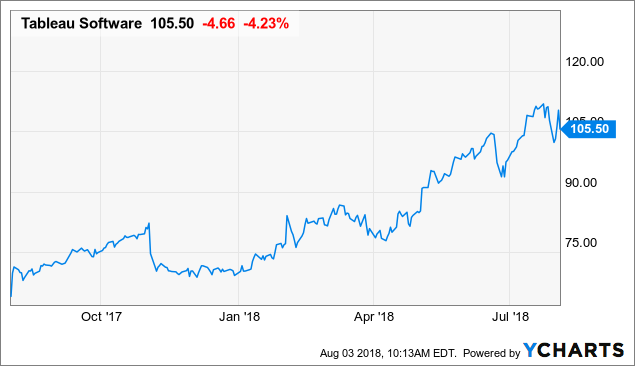 Perhaps what has Tableau investors a little miffed is the revised guidance range. Note that Tableau is currently providing guidance under its previous accounting standard, ASC 605 (it's currently reporting both ASC 606 and ASC 605 results in its earnings releases. ASC 606's revenue recognition provisions give the company an extra "boost" in revenues that make prior-year comps look more rosy).
Last quarter, Tableau guided to revenues of $950-985 million (ASC 605), which would represent y/y growth of 13-17%. This quarter, the company has adjusted only the bottom end of that range up to $965-985 million, which is exactly in line with analyst consensus of $974.8 million (+16% y/y).
In my view, the fact that Tableau is producing any growth at all is quite impressive, particularly when the company is in the midst of a cloud transition. Not all companies that are in the process of converting expensive license contracts into recurring deals are able to achieve this. Autodesk (ADSK), for example, had several quarters of negative y/y revenue comps as it struggled through its cloud transition, which is still ongoing.
Pricing for Tableau enterprise products, of course, is highly variable from deal to deal, depending on the number of seats and how strong of an incentive Tableau throws in to win the client. One source claims that Tableau Server costs about $14,000 in start-up costs, while each seat for Tableau Desktop costs $1,600 for a perpetual license.
Under license deals – which used to be the entirety of Tableau's business – all this revenue would come upfront. Instead, Tableau is now splitting this one-time upfront windfall into smaller streams of subscription payments. It's true that there are still license deals within Tableau's revenue base, but the shift to cloud is still acting as a revenue headwind.
The point is this: growth comparisons can become really messy during transitionary periods, because the better Tableau does in converting its customers to the cloud (which is a good signal to investors), the worse its revenue comparisons become because more of its license deals get nixed. With that being said, the fact that Tableau is able to produce mid-teens growth while this is happening is a strong indicator of the underlying business.
Companies that have shifted to the SaaS model, like Adobe (ADBE), have not only enjoyed massive boosts in both revenues and profitability, but also a massive appreciation of their stock prices. In my view, Tableau stock is merely back to where it was two years ago – there's still plenty of room for upside as Tableau evolves into becoming a cloud-focused company.
Q2 download: ASC 605 growth accelerates
Let's dive deeper into Tableau's Q2 results:
Figure 1. Tableau Q2 earnings

Source: Tableau investor relations
The most important thing to note is strong top-line performance. On an as-reported ASC 606 (new standard) basis, Tableau's revenues of $282.3 million grew 33% y/y. Due to the lack of a prior-year compare, however, Tableau is still reporting ASC 605 revenues of $243.6 million, which represents 14% y/y growth and smashed analyst consensus of $236.0 million (+11% y/y).
Even more impressive is the fact that Tableau showed accelerating growth over last quarter's 12% y/y growth (on an ASC 605 basis). Should this trend of acceleration continue, there could still be plenty of upside in Tableau's guidance ranges. The fact that it didn't raise the upper end of its guidance gives the company an opportunity to beat expectations, as it has in this quarter.
The most important metric to watch, however, is the subscription growth. Tableau has really expanded its SaaS efforts this year, with annual recurring revenue up 44% y/y to $697.7 million (comprising of subscription revenues and other non-subscription, but recurring portions of Tableau's revenue base). What a ~$700 million ARR base means for Tableau is that ~70% of its revenues for the year are already contractually locked down (versus a ~$1 billion total revenue run rate). In years past, Tableau would have to chase the majority of its revenue goals via new license deals – but with ARR up so strongly now, all of its new business is purely incremental to the top line.
Note also that subscription revenue itself grew 181% y/y to $291.3 million (under ASC 606, which is not impacted by the accounting change), up from $103.5 million in 2Q17. The company's "ratable bookings mix" – essentially the portion of bookings in the quarter that will be recognized ratably over time – is up to 67%, from just 26% at the beginning of 2017. Adam Selipsky, Tableau's CEO, offered some useful commentary on the earnings call on the cloud transition:
"Let's kick things off with subscription. In Q1 of 2017, our ratable license bookings mix was 26%. This was before we had publicly launched subscription licensing. In April of last year, we officially launched subscription licensing, giving our customers an easier way to buy Tableau, with lower upfront cost and reduced risk. Fast forward five quarters, and our mix is now 67%, showing how our customers have embraced subscription licensing enthusiastically.

As we've said, our transition to subscription is a multi-year effort, and in April of this year, we evolved our offerings even further. With three new subscription offerings, Tableau Creator, Explorer, and Viewer, we've made it easy for customers to scale and tailor Tableau capabilities to all of the different needs across their organizations."
He further added that customers who "previously would have bought perpetual Desktop and Server licenses" are now increasingly opting for the cloud-based versions. At the same time, Tableau added more than 4,000 customers in the quarter and maintained a renewal rate "above 90%".
This is strong commentary for the underlying momentum of the business. Any bear that's reading into the in-line FY18 guidance as a potential miss is ignoring the fact that Tableau has historically been conservative in its guidance and unafraid of shooting low when setting expectations (as we know well from 4Q16).
The one detractor in Tableau's earnings, however, was a lack of advancement on the profit side. The company reported a pro forma, ASC 605-based operating loss of -$7.3 million in the quarter, representing an operating margin of -3.0%, only 40bps better than -3.4% in the year-ago quarter. I'd argue, however, that with Tableau so focused on its transition to SaaS, it's not particularly useful to focus on margin improvements now – the company is right to drive larger amounts of sales spending in order to accelerate its subscription growth (sales and marketing spend jumped 22% y/y in the quarter, faster than revenue growth).
Damon Fletcher, Tableau's new CFO, noted that a faster-than-expected cloud transition would have a negative impact on near-term margins:
"Our annual revenue guidance now assumes that the mix of ratable license bookings will be approximately 68% to 71%, an increase of 3 points at the midpoint, compared to our guidance for the full year shared last quarter. This increased mix expectation will have an associated impact on the full-year operating margins, due primarily to the ongoing mix shift from upfront to ratably recognized revenue."
In recognizing that Tableau's shift to cloud was happening ahead of schedule, the company took down its EPS guidance to -$0.30 to -$0.40, possibly another reason why investors are dumping the stock. Like the revenue headwind, however, the near-term pressure on EPS is really good news disguised as bad news. Tableau has to put up with a little pain in the near term to emerge as a stronger, more recurring business in the future.
Key takeaways
Worries about Tableau's possible revenue deceleration or a deterioration in its profitability are both explained by, and eclipsed by, a startlingly fast transition to cloud that has the company's subscription revenues nearly tripling this quarter. In my view, Tableau remains a solid long-term bet. Though the company is up against notable competition in the BI space, particularly against lower-cost options like Microsoft (MSFT) Power BI, Tableau has always been a fan favorite and maintained a premium brand in the space that should help it to continue fueling its growth.
Disclosure: I/we have no positions in any stocks mentioned, but may initiate a long position in DATA over the next 72 hours.
I wrote this article myself, and it expresses my own opinions. I am not receiving compensation for it (other than from Seeking Alpha). I have no business relationship with any company whose stock is mentioned in this article.