When it comes to hunting for value in the technology sector, those two concepts – tech and value – seem to be irreconcilable. And while this is true of most of the sector, it's not true of memory stocks; and within the memory sector, one name screams value more than any other: Micron Technology (MU).
I've been a longtime bull on Micron, especially after the company's recent upward guidance revision to Q3 estimates, which kicked off a fresh rally in Micron shares above $60. The question on my mind, and on many investors' minds, is simple: do we take the ~50% year-to-date gains on Micron and run, or do we hold on in the hopes of further appreciation?
In my view, the Micron rally still has plenty of legs. In addition to the catalysts coming out of Micron's Q3 guidance revision, including the updated NAND/DRAM market predictions that Micron's management made during its analyst day (covered in a prior article), Micron has several other drivers beyond the incoming Q3 results that can propel shares even higher, which we'll discuss in this article.
Also consider the fact that while Micron has enjoyed the strongest performance of any of the major memory stocks thus far in 2018, it's also still the cheapest. From a forward P/E perspective, which is how most analysts view Micron and the memory space, Micron is still a touch below Western Digital (WDC) and substantially lower than Seagate (STX). The divergence to Seagate's valuation is perhaps most startling of all – Micron is a thought leader that has just started shipping its next-gen 3D NAND product, while Seagate is primarily an HDD manufacturer with little prospects for growth.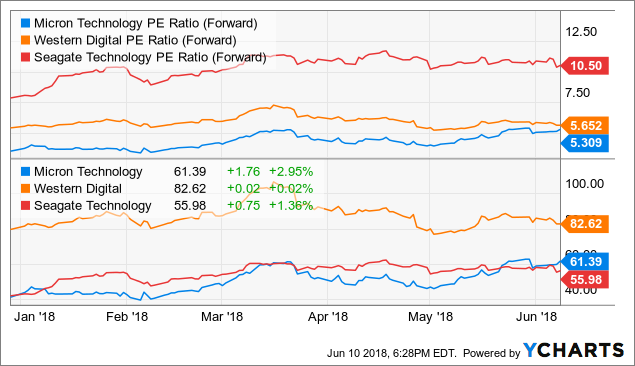 I'm holding out for Micron to touch at least $100 before letting go of the shares. It's not an arbitrary round number that would inflate the stock's valuation – note that analysts' EPS targets for this year and next have moved up over the past month as Micron itself revised its guidance ranges. Wall Street is now expecting $11.56 in EPS for this year and $10.86 for next year, according to Yahoo Finance. A $100 price target would still imply a cheap single-digit P/E ratio of 9.2x against FY19 EPS estimates, and implies 64% upside from current levels.
If it sounds too good to be true, consider the fact that the reason memory stocks trade at such low P/E multiples is that, like auto stocks, the memory market has been known to be highly cyclical. In Micron's latest memory market update given during its May analyst day, however, it has noted that supply growth will be slightly moderated compared to what it had originally expected, and that demand growth (on a "bits" basis) will match supply growth. Micron expects supply growth of 20% in DRAM against 20% demand growth; as well as 40% supply growth in NAND against 40-45% demand growth. This implies a balanced market and stable prices.
If the memory market has matured such that it no longer has the dramatic peaks and valleys in pricing as in the past, then memory stocks' P/E multiples can normalize as well. A 9-10x P/E multiple for Micron, in my view, is only a small step in that direction. Stay long.
$10 billion buyback another catalyst for EPS growth
If you've paid even an iota of attention to Micron over the past several quarters, you're well aware that the company has been able to drive massive earnings growth organically – that is, through pure revenue and operational improvements alone. Last quarter, Micron's Q2 EPS of $2.67 represented 4x growth over the prior Q2. Well, Micron's May 21 announcement of a new $10 billion buyback program is about to add some extra fuel to Micron's EPS growth capabilities.
In general, Micron's stock comp programs have boosted the share count over time. Here's a look at Micron's average diluted shares over time, taken from each quarter's 10-Q filing:
2Q18 (most recent): 1.159 billion shares
1Q18: 1.156 billion shares
4Q17: 1.114 billion shares
3Q17: 1.106 billion shares
Micron's EPS growth has essentially been achieved in spite of the increase in share count, and this upward creep in shares is about to go in the reverse direction. With an open-ended $10 billion buyback program, Micron has the capability to buy back 14% of its current market cap of $71 billion. Put another way, at its current share price of $61, if Micron were to deploy the full $10 billion it could immediately retire 164 million of its current 1.159 billion shares and produce about 16% "inorganic" earnings growth through share count reduction.
This $10 billion buyback isn't just management blowing smoke, either. Micron is fully capable of financing this buyback through the $8 billion of cash on its Q2 balance sheet as well as the $3.8 billion in free cash flow it generated in the first six months of FY18 (Q1 and Q2) alone. Micron has newly committed to returning to shareholders at least 50% of FCF along with its new buyback program.
In essence, I think of the new buyback program as a fail-safe for if/when NAND and DRAM prices do cool off. In the event that Micron sacrifices a bit of margin and sees earnings growth headwinds from the operational front, it can still rely on its huge buyback program to drive positive y/y EPS comps. Analysts' EPS estimates for FY19 imply a -6% contraction – Micron's buybacks could drive this figure to positive even with slight memory pricing headwinds factored in.
3D NAND shipments taking off
NAND has always been the lesser portion of Micron's business, with DRAM taking up two-thirds of its revenues. But Micron's late May announcement that it began 3D NAND shipments in partnership with Intel is also worth mentioning.
3D NAND has long been awaited in the industry as it allows for the capability of stacking more memory chips in a smaller space. As envisioned by Gordon Moore of Intel years ago, the goal of semiconductor manufacturing is the continual improvement of packing more and more computing power into a smaller and smaller space year after year. 3D NAND allows manufacturers to stack memory chips vertically within the memory unit, unlike 2D NAND where memory chips are consolidated into a single flat layer, eating up space.
The Micron/Intel partnership is universally recognized as a technology leader in 3D NAND. Here's the quote from an Intel VP highlighting the benefits of 3D NAND, taken from the press release:
"Commercialization of 1Tb 4bits/cell is a big milestone in NVM history and is made possible by numerous innovations in technology and design that further extend the capability of our Floating Gate 3D NAND technology," said RV Giridhar, Intel vice president, Non-Volatile Memory Technology Development. "The move to 4bits/cell enables compelling new operating points for density and cost in Datacenter and Client storage."
Bit growth in NAND shipments beginning in Q3 and beyond is another major driver for Micron's earnings that may not yet have been factored into analysts' expectations for EPS decline next year.
Key takeaways
Despite the robust performance of Micron shares year to date, the company still has plenty of room left to rally. Aside from Micron's expectation of a stabilized memory pricing environment driven by balanced supply/demand growth, the company is also supporting its EPS growth via a huge new buyback program and new product launches (3D NAND) that can greatly increase its bit shipments.
Micron remains one of the truly value-oriented plays in the technology sector, and it even looks cheap against other undervalued memory stocks. Investors are encouraged to continue building a position, especially as upcoming catalysts (Q3 earnings) may prove to be another strong upside catalyst.
Disclosure: I am/we are long MU, WDC.
I wrote this article myself, and it expresses my own opinions. I am not receiving compensation for it (other than from Seeking Alpha). I have no business relationship with any company whose stock is mentioned in this article.
Related Posts: