"I cook with wine, sometimes I even add it to the food." – W.C. Fields
Today we take a look at a small homebuilding concern that is well positioned in fast-growing areas of the country. A recent 20% pullback offers an apparent attractive entry point before the concern reports second-quarter results Monday.

Company Overview
Green Brick Partners, Inc. (GRBK) is a Plano, Texas-based diversified homebuilding and land development company with a focus on the Dallas, Atlanta, and – with the April 2018 acquisition of GHO Homes – Vero Beach, Florida markets. Through the company's non-controlling (49.9%) interest in Challenger Homes, it also has exposure to the Colorado Springs housing market. Green Brick participates in all aspects of the homebuilding process, including land acquisition and development, entitlements, design, construction, marketing and sales at its residential neighborhoods and master planned communities. The company went public in 2014 through a reverse shell transaction and then executed a public offering in July 2015, raising net proceeds of ~$170 million at $10 per share. It currently has a market cap of ~$485 million. Green Brick is chaired by famous (or infamous depending on your perspective) investor David Einhorn, who is also the Chairman of Greenlight Capital Re, Ltd. (NASDAQ:GLRE).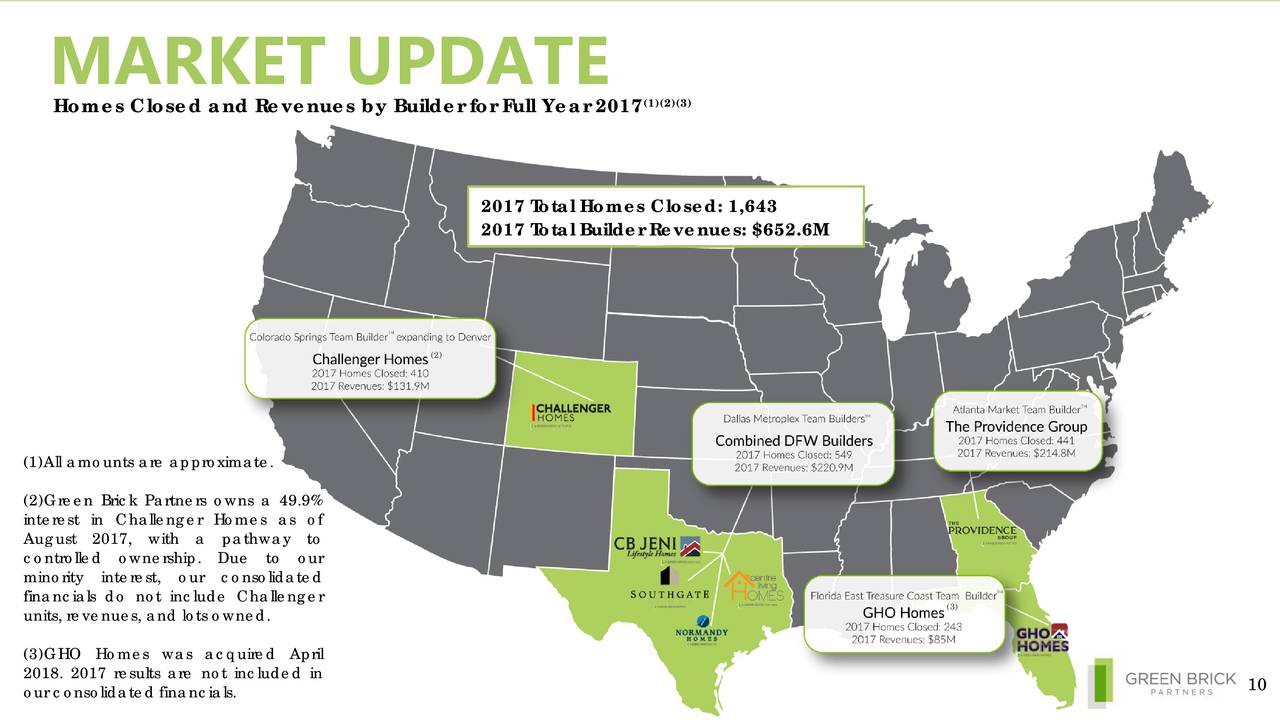 Source: Company Investor Presentation
The company owns a controlling interest (50% ownership, 51% voting rights) in four homebuilding subsidiaries – three in Dallas; one in Atlanta – to which it sells finished lots (i.e. they have all available utilities and are ready for construction). Green Brick concurrently provides them with financing for the purchase at an unlevered internal rate of return (IRR) 20% or more, and subsequent construction financing at interest rates between 13.8% and 16.5%. Green Brick's income is further increased by participating 50% in any profits of its controlled builders. That same arrangement recently started with GHO Homes, except the economic interest for Green Brick will be 80%. The company also sells a minority of its finished lots to third-party homebuilders at IRRs of 20% or greater where it sees an opportunity to maximize returns or mitigate risk.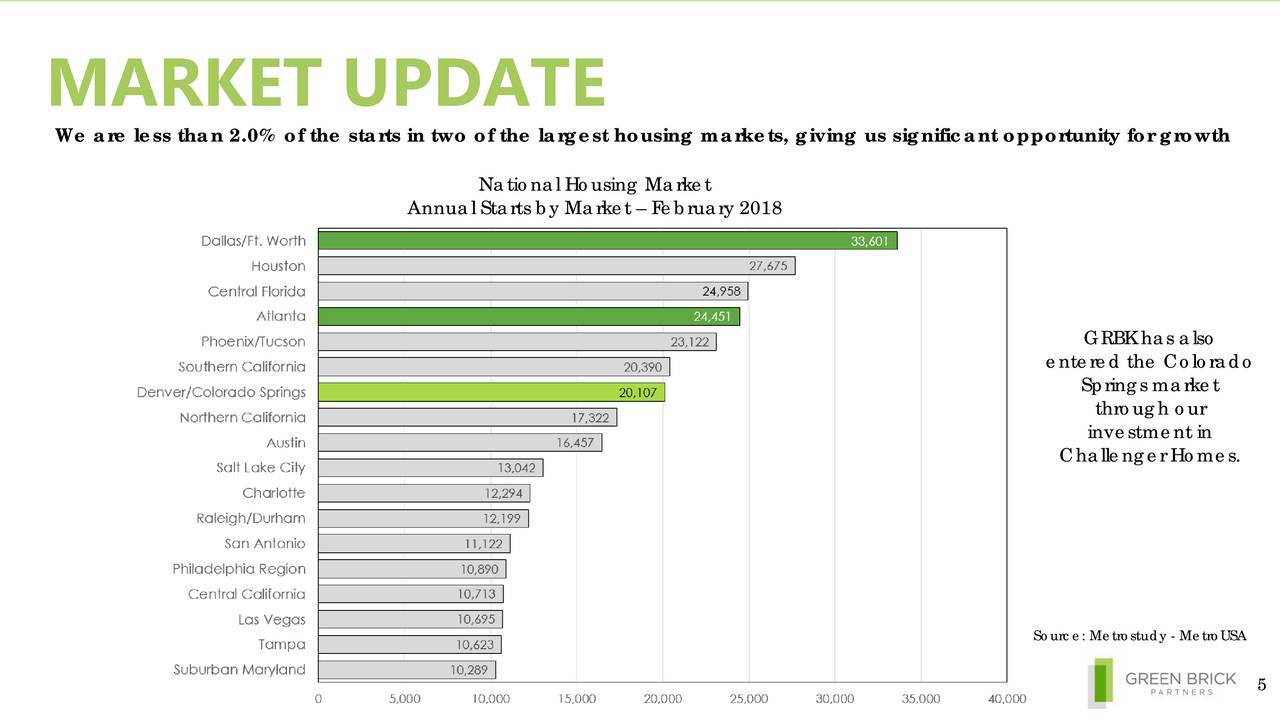 Source: Company Investor Presentation
Green Brick's owns or controls – optionality to buy but not titleholder – ~6,300 lots in the Dallas and Atlanta markets. These markets were chosen by design for their positive demographics. According to the Bureau of Labor Statistics, Dallas ranked number two in annual job growth (as of February 2018) only behind New York City, and Atlanta ranked eighth. During the same period, Dallas ranked first in housing starts with Atlanta fourth. In these giant housing markets, Green Brick's footprint is less than 2%, thus the opportunity for growth. The company currently offers townhomes and single-family housing in the Atlanta market ranging in price from $310,000 to $1.1 million. In the Dallas metropolitan area, Green Brick's controlled builders offer townhomes, single-family and luxury homes from $250,000 to $1.5 million.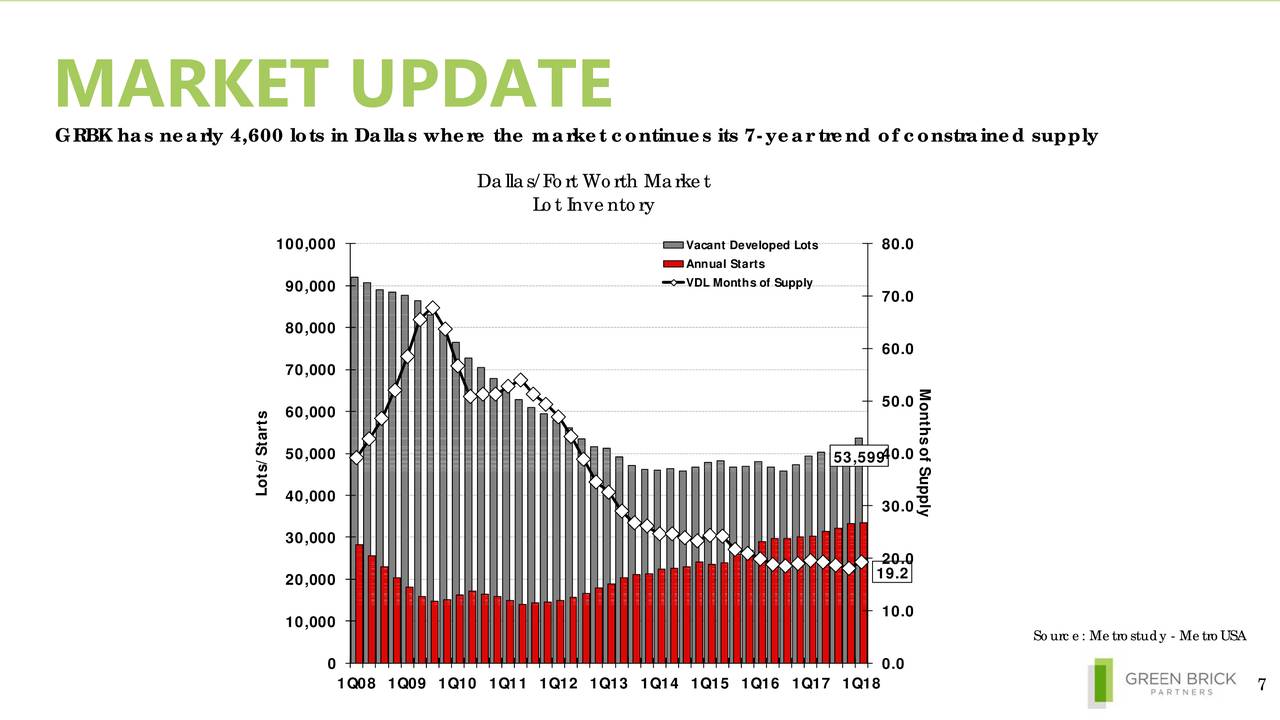 Source: Company Investor Presentation
Ownership Breakdown
Prior to a recent June public offering – more on that shortly – Greenlight Capital owned ~24.1 million shares or ~47.7% of the 50.6 million shares outstanding, and Third Point LLC owned ~8.2 million shares, or 16.2% of the shares outstanding. Directors and officers owned ~2 million shares, representing ~4% of the shares outstanding.
1Q18 Results
In 1Q18, the company earned $0.29 (adjusted) per share on revenues of ~$128.3 million versus $0.21 (adjusted) per share on ~$99.3 million in 1Q17, reflecting ~38% and ~29% growth, respectively. Net new home orders increased 51.2% to 434 as cancellations dropped from 15.6% in 1Q17 to 10.3% in 1Q18. Dollar backlogs in the quarter increased 56% year-over-year to $226.5 million while backlog volume increased 60.1% to 477. Pretax margins increased y-o-y from 11.4% to 12.6%. These results reflect a strong U.S. economy, robust business activity in Green Brick's markets, and solid financial discipline by management – all in all, a very solid quarter.
Expansion into Mortgage Lending
After its 1Q18 earnings release, the company announced that it was expanding its lending business from the homebuilder to include the homebuyer, forming a partnership with mortgage financier PrimeLending. The two companies are creating a new residential lender called Green Brick Mortgage, which will offer home loans in the Dallas-Fort Worth and (presumably) its other markets starting 4Q18. PrimeLending Ventures Management will own 51% of Green Brick Mortgage, with a Green Brick Partners affiliate holding the balance.
Recent Public Offering
After the markets closed on June 18, 2018, Green Brick announced a public offering of ~10.7 million shares, ~8.2 million from registered selling shareholder and initial investor Third Point LLC, and ~2.5 million from the company that would have been used for general corporate purposes. The stock had closed that session at $12.18 per share. Predictably, shares of GRBK traded lower the following day, but considering the total amount of shares outstanding was only being increased by ~5%, the selloff to $10.65, a 12.5% drop, seemed a bit severe. As indications of interest came in over the next two trading sessions in this thinly traded stock, Green Brick's management elected not to sell any shares, and on June 22, 2018, Third Point's holdings in Green Brick were divested at $9.50 per share, down ~22% from the closing price pre-announcement. Despite not increasing the shares outstanding with this transaction, shares of Green Brick have not rebounded, finishing the August 1, 2018, trading session at $9.60.
There can be many dynamics at play affecting Green Brick's stock price. First, too many traders (versus investors) may have participated in the offering, expecting a quick bump in price given the ~22% selloff without any fundamentals changing. This dynamic results in too many sellers post-offering, which puts added near-term pressure on the stock. Second, investors may be leery that Third Point's sale might indicate that all is not well with Green Brick and that will come to light when the company announces 2Q18 results on August 6, 2018. Third, some investors believe Green Brick will eventually come back to the capital markets to sell shares once its share price rises again and that will be the opportunity to enter. Fourth, the market may be slightly disinterested given the small float – ~30,000 shares a day in average trading volume pre-announcement – and the loss of focus owing to Wall Street's exodus to the Hamptons for summer vacations. It is likely some combination of these four phenomena.
Balance Sheet & Analyst Commentary
Green Brick's balance sheet is solid as it exited 1Q18 with ~$34.4 million in cash and ~$528.5 million in inventory versus ~$36.7 million in cash and ~$495.7 million in inventory at YE17. Despite its strong and consistent growth, Green Brick maintains the lowest debt-to-capital ratio in the industry at 21% versus an industry average of ~38%, thus giving it flexibility to leverage its balance sheet for further growth. In the aggregate, the company has $140 million still untapped on $275 million worth of credit facilities, subject to the fulfillment of certain covenants.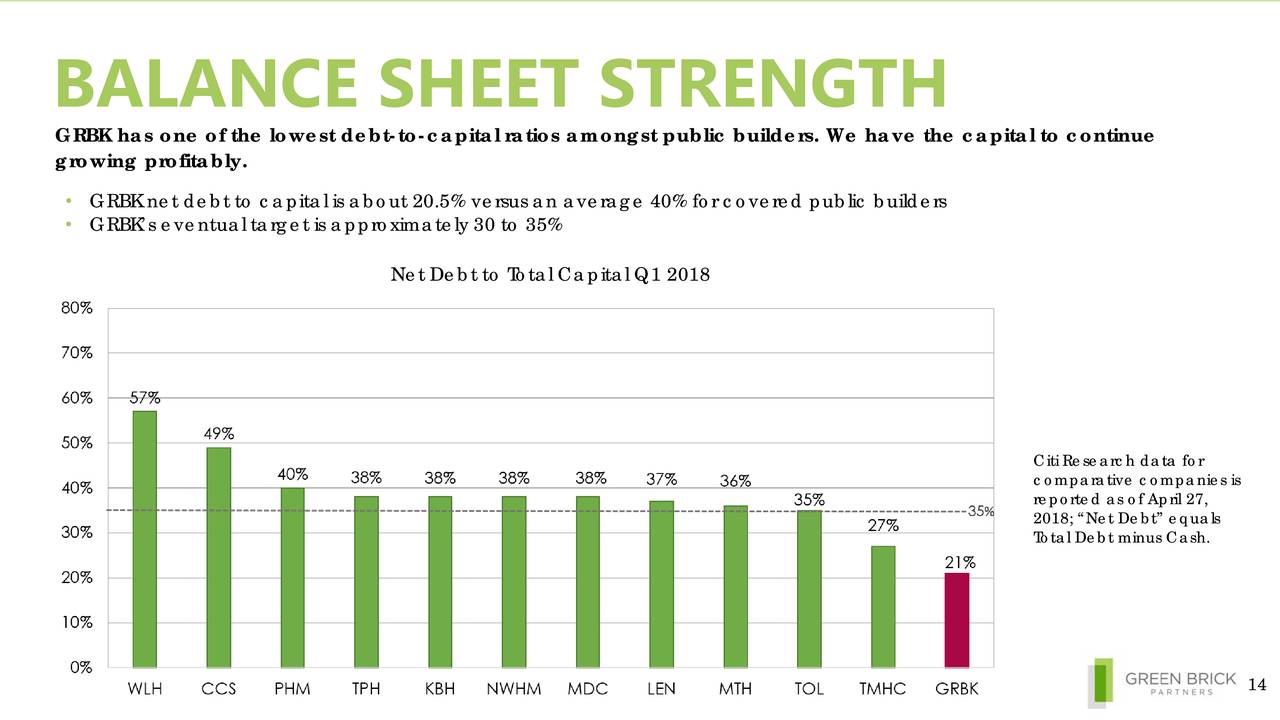 Source: Company Investor Presentation
The company is lightly followed on the Street with Citigroup rating the shares a hold. The analyst lowered his 12-month price target from $13 to $11 post-offering. JPMorgan rates the company an outperform with a $13 price target.
Insiders used the weakness post-offering as a buying opportunity. In total, five officers or directors purchased over 60,000 shares below the $9.50 offering price.
Verdict
It would seem hard to imagine that five insiders would purchase shares if something was seriously wrong at Green Brick. The economy is strong which could portend higher rates, but that dynamic is not at play here. What is at play is a stock that just dropped ~20% because a selling shareholder wanted out and nothing else. A large block trade – which netted the seller $9.07 a share (after banking and transaction fees) – in a stock that is not widely followed and does not have much float just presented investors with an opportunity to get it ~20% cheaper than where it was trading before. Green Brick does not have to come back to the capital markets for cash: it can borrow from its untapped credit facilities to facilitate growth initiatives. After a month of churning, it is likely that most of the weak hands (re: traders) are out of the stock. Buy now in advance of the August 6th earnings release, which should validate the insiders' purchases.
"The only time to eat diet food is while you're waiting for the steak to cook." – Julia Child
Author's Note: If you would like to get these types of articles as soon as they are published, just become a real-time follower to the Insiders Forum by clicking here, hitting the big, orange "Follow" button, and selecting the "real-time
Disclosure: I am/we are long GRBK.
I wrote this article myself, and it expresses my own opinions. I am not receiving compensation for it (other than from Seeking Alpha). I have no business relationship with any company whose stock is mentioned in this article.