This research report was jointly produced with High Dividend Opportunities co-authors Jussi Askola and Philip Mause.
Introduction
Opportunities are rare these days. This is especially true in growth sectors as the almost euphoric optimism of investors has pushed valuations of some "growth stocks" to what we consider over-stretched levels. One good example of such sector is the industrial REIT sector as it is today priced at an above average FFO multiple relative to most other REIT sectors.

Source: NAREIT
Industrial REITs trade currently at an average of 33 times expected 2017 FFO, and 21.6 times expected 2018 FFO. Many names such as Prologis (PLD), Rexford (REXR), and Terreno (TRNO) trading well in excess of 22 times 2018 FFO.
To some extent, these lofty valuations are well justified as industrial REITs have kept posting solid results and have good prospects, but nonetheless, it is difficult for us to get excited about 3-4% dividend yields.
Yes, it is true that the demand for industrial space remains particularly strong – allowing REITs to grow NOI at superior rates, but this appears to us to be already priced in for most REITs.
At "High Dividend Opportunities", our aim is to identify high-yield stocks trading at cheap valuations. Today, we would like to highlight a particular stock that comes with great growth prospects and is still trading at attractive valuations. In fact, this is a Property REIT that gets little attention compared to other industrial REITs.
We are talking about Gramercy Property Trust (GPT) here: A REIT generating about 80% of its NOI from industrial assets, but trading at up to 40% discount to its industrial peers. GPT is listed at NAREIT as a "Diversified Property REIT":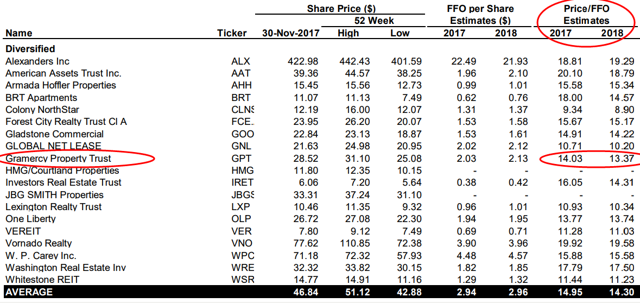 Source: NAREIT
We don't like to risk overpaying for growth stocks, and this is why we consider Gramercy to be so attractive. In short, it allows us to gain exposure to a favorable growth market at a value stock price.

Gramercy Property Trust: a Hidden Gem in an Overpriced Sector
Gramercy is a REIT with a complex history. It used to be a hybrid between equity and mortgage REITs owning a diverse portfolio of properties outright and lending money to different real estate projects. This changed after the financial crisis as the company experienced large losses – leading it to reconsider its strategy and eventually make the decision to re-position its portfolio towards industrial assets.
Since then, the company has done a 180-degree strategy change, as it has grown its industrial allocation from a low 47% at the end of 2015 to almost 80% today:

Source: Gramercy
This transition in portfolio strategy has already resulted in massive market outperformance, and we expect this to continue as Gramercy remains a bargain relative to its peers: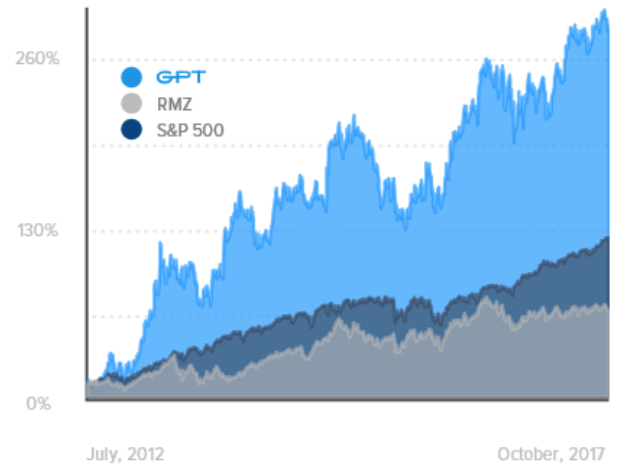 Source: Gramercy
Nowadays, Gramercy is among the largest industrial property owners of the nation with over 280 industrial properties in its portfolio. The main focus is on top tier markets such as Atlanta, Chicago, Dallas, Houston, LA, NY, and others. Today, about half of the company's ABR is being generated from Tier 1 markets with the rest coming from other primary e-commerce fulfillment hubs (21% of ABR), and fast growing sunbelt/western markets (15%).

Source: Gramercy
Warehouses and light industrial assets make up the largest segment of the industrial portfolio, with 71% of the NOI being generated by warehouses. This is a property type with superior fundamentals as it greatly benefits from the growth of e-commerce. It is expected to keep the demand for space high and support rent growth over the long run. Moreover, it possesses many of the advantages of office properties, but typically requires less CAPEX over time, may be bought at higher cap rates (market dependent), and with even longer lease terms.

Source: Gramercy
While industrial assets make up the greater portion of the portfolio (77% of NOI) today, Gramercy also has a minority exposure to office (18.6% of NOI) and specialty retail (4.4% of NOI). This particular portfolio structure allows for opportunistic acquisition behavior as Gramercy can look for best risk-to-reward scenarios in different markets. Moreover, we consider these non-industrial assets to be a catalyst for Gramercy's shareholders as they are really the reason why the shares are being offered so cheaply in comparison to other industrial peers. Put differently, because Gramercy isn't a pure-play industrial REIT (yet), its valuation multiple is significantly inferior – allowing us to gain exposure at a more opportunistic price.
Source: Gramercy
The key portfolio statistics point out to QUALITY. The occupancy is sky high at 97.4%, over 90% of the assets are located in target markets with a clear focus on top tier locations, and the weighted average remaining lease term ("WALT") is a high 7.2 years. The long WALT is really a big deal for us as it reduces risk significantly for many years to come. With few lease expirations anticipated in the coming years, we expect the income to keep on coming with minimal risk of vacancy or unexpected CAPEX.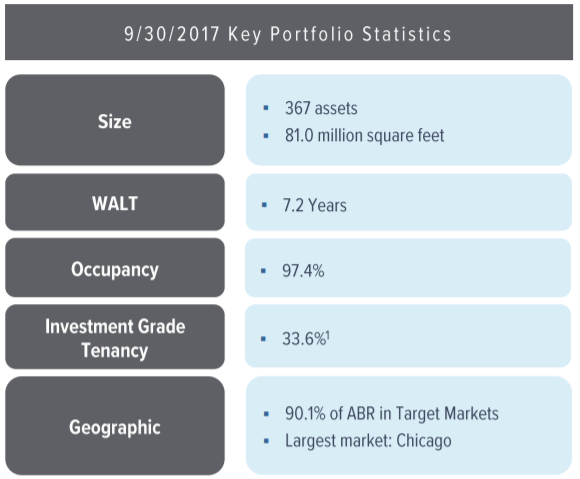 Source: Gramercy
Finally, this focus on quality is well reflected in the leasing spreads of the industrial portfolio which are fairly significant. If Gramercy had troubles finding tenants, it certainly couldn't achieve such high spreads over past leases:

Source: Gramercy
Gramercy vs. STAG Industrial
We note that the portfolio compares favorably with STAG Industrial (STAG) which is a very popular name among Seeking Alpha readers. Comparing both companies, we have difficulties understanding why Gramercy is getting so little attention: it owns higher quality assets and yet sells at a lower valuation. On average, the targeted property locations are of higher quality and the weighted average remaining lease term is 7.2 years, well in excess of the 4.7 years for STAG.
Moreover, STAG compares especially poorly when looking at the average building age of both companies. While Gramercy owns mostly relatively new assets with an average age of 13 years, STAG has an average building age of 28 years which is a LOT for industrial assets.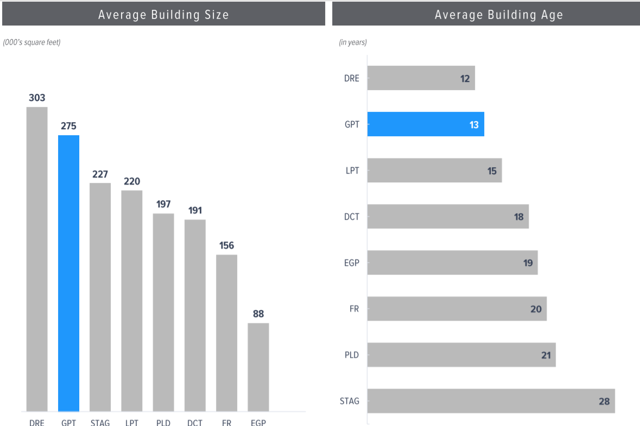 Source: Gramercy
While we are not bearish on STAG by any mean, we favor Gramercy for these exact reasons. Primary markets, with longer lease terms, and newer better buildings offered at a discounted valuation sounds much better to us than secondary markets with shorter lease term, old properties, higher risk of vacancy, and elevated capex needs, sold in the markets at a higher valuation.
It may be true that STAG has better short-term growth prospects, but over the long run, we consider the risk-to-reward ratio of Gramercy to be the most favorable here.
Finally, it is worth noting that Gramercy stacks up well against its peers in asset clear heights comparisons. This is another essential issue to consider as it causes lots of assets to become obsolescent over time as the clear height may not meet the future tenant's expectations.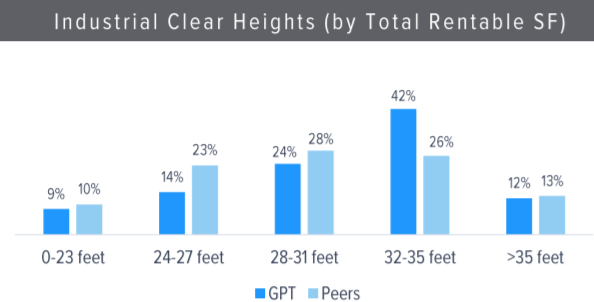 Source: Gramercy
On the other hand, the old properties of STAG may have higher obsolescence risk. This combined with short lease terms, volatile retention rates, and old properties requiring capex and located in secondary markets really makes us wonder why STAG gets so much love compared to Gramercy today. We expect this to eventually change as Gramercy becomes even closer to being a pure-play industrial REITs – unlocking capital appreciation to its shareholders.
An Industrial REIT Sold at a cheap price
Gramercy is today generating 77% of it NOI from industrial assets, and soon this will exceed 80% as the management expects to keep moving heavily towards this direction. Yet the company trades far from the valuation of other industrial REITs as seen in our introduction. While the average 2018 FFO multiple of the industrial peer set is close to 22, Gramercy is currently being offered at a low 12.5 times FFO.
This is a company that is 77% Industrial, but trading at a massive discount. Even if you gave 0 value to the remaining 23% and essentially made GPT a pure-play industrial REIT, it would still trade at a very reasonable valuation relative to its peers.
As such, Gramercy allows us to gain exposure to industrial assets at a much lower price today, which we expect to result in strong outperformance over the long run.
The Reason Behind this Inefficiency
So, what is causing this large valuation gap?
The answer can be attributed to 2 reasons:
The market has overlooked the big changes that have occurred at Gramercy during the last 12 months, and consequently, it continues to categorize it within the "Diversified REIT" peer group rather than the "Industrial REIT" group. In fact, even NAREIT still classifies Gramercy in the diversified peer group. It is then not surprising that Gramercy may be mispriced as many classify it as a "Diversified REIT", and "Diversified REITs" tend to trade at high discounts relative to "Pure-Play REITs". The market prefers REITs to specialize in one specific sector because this results in maximizing efficiencies and becoming "experts" in that one area rather than investing in many sectors with no competitive advantage. As such, diversified REITs trade on average at about a 30% discount to the broad REIT market, and 40% discount relative to industrial REITs.
Gramercy saw significant price decline in the past few months after an earnings miss in its 3rd quarter results. The reason for the earnings miss was due to the company's portfolio re-positioning whereby 51 new industrial properties were acquired during quarter for $868.9 million. This earnings weakness should be temporary as the income for these new properties will show its full impact in future quarters. In fact, the share price of GPT pulled back by almost 12% in the past 3 months providing a unique buying opportunity.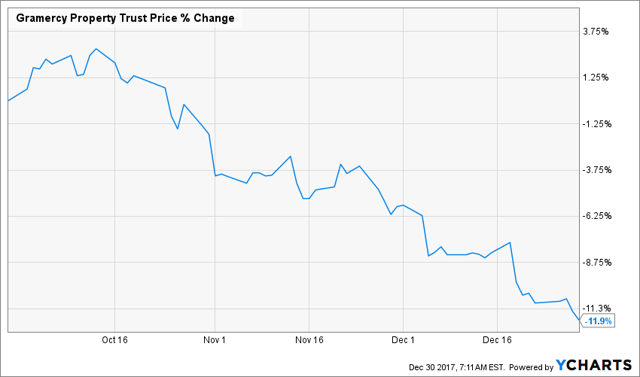 Now, with that said, the market is not giving any credit to the latest portfolio transition – making Gramercy an "almost" pure-play industrial REIT. With close to 80% of the NOI coming from industrial properties, we argue that Gramercy's FFO multiple should be closer to the average of the industrial sector (22x) rather than its current 2018 FFO of 12.5 times.
Some discount is certainly warranted given that Gramercy isn't a pure-play just yet, but the current discount appears overdone and unjustified.
Should Gramercy's FFO valuation multiple increase to 17 time FFO, which is still almost 5 notches lower than industrial REITs, the shares would be trading at least 30% higher from the current price of $26.66/share. We believe a Price to FFO of 17 is very reasonable for Gramercy and should be achievable over the next 12 months, as Gramercy continues to sell non-industrial assets and gets even closer to a pure-play. We expect the FFO multiple to expand and result in market outperformance.
Risks
Investors buy REITs mainly for higher income and for long-term growth. REITs also help investors diversify their income streams. However, every investment comes with certain risks:
Macro-economic risk: The performance of Property REITs is dependent on the state of the U.S. economy. REITs tend to underperform when the U.S. economy hits a recession, as property prices and rents tend to go down. Having said that, the recession risks in the United States are at their lowest since the last financial crisis. Therefore, the risks of investing in property REIT companies such as Gramercy are currently pretty low.
Execution risk: Although Gramercy has already converted about 80% of its portfolio into Industrial Properties, the company could continue converting the rest of its non-industrial assets into industrial ones. This presents some execution risks as the company will have to sell some of its existing assets and buy new ones, resulting in one-time costs and expenses. Should these cost be excessive, it could keep the price of the stock depressed for a longer period of time.
Final Thoughts
Growth stocks tend to be expensive. The industrial REIT market is no exception with lofty average FFO multiples and low dividend yields. Fortunately, there still exist few exceptions that allow investors to gain exposure to industrial real estate at a much lower price. One clear exception is Gramercy Property Trust, which offers today a yield of 5.6% with over 30% upside potential. Investors are getting well paid to wait until the stock recovers, and a price recovery could happen very soon.
If you enjoyed this article and wish to receive updates on our latest research, click "Follow" next to my name at the top of this article.
About "High Dividend Opportunities"
Looking for High-Yield stocks trading at cheap valuations?… This is our specialty.
High Dividend Opportunities is a leading and comprehensive dividend service ranked #1 in dividends & Income on Seeking Alpha and is dedicated to high-yield securities trading at attractive valuations. Our service includes a managed portfolio targeting 8% overall yield – and a selection of the best high-yield Master Limited Partnerships, BDCs, U.S. Property REITs, Preferred Shares, and Closed-End Funds.
Many high-yield sectors have not participated in the current big rally we have seen in the last 12 months, and offer a unique opportunity to lock in high yields at low prices. We believe that it is the best time for investors to load on high dividend stocks. We invite readers for a 2-week free trial to have a closer look at our investment strategy and our best high-yield picks for 2018, to achieve high income and long-term capital gains. Get yourself prepared for a powerful year ahead! For more info, please click HERE.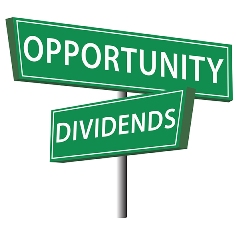 Disclosure: I am/we are long GPT.
I wrote this article myself, and it expresses my own opinions. I am not receiving compensation for it (other than from Seeking Alpha). I have no business relationship with any company whose stock is mentioned in this article.
Related Posts: