It wasn't great. Alibaba's (BABA) calendar third quarter earnings release saw revenues miss consensus while non-GAAP earnings had a strong beat. In addition, the fiscal year revenue forecast was reduced. It still remains to be seen whether or not a near-term slowdown in growth due to regional expansion will reap dividends in the future.
Below are some key points from the earnings release and subsequent analyst call.
Headline results
Revenues of $12.4bn missed Wall Street's consensus of $12.54bn in what was a rare miss for Alibaba. And while the trend of revenues looks to be exponential, it's worth remembering that there have been several large subsidiaries added to revenues from income from equity investees, such as Eleme, Koubei and Cainiao.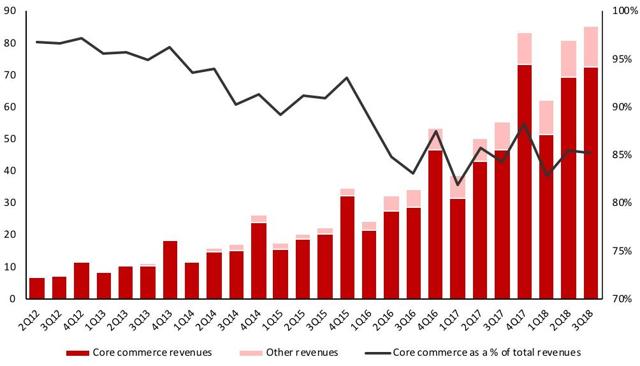 Revenue breakdown. Units: RMB billions. Source: Alibaba investor relations
To compound this disappointment further, it's the first time in three years that the firm has missed analysts' expectations on revenues.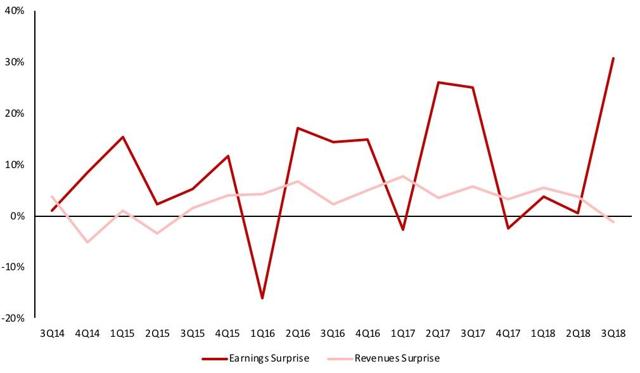 Earnings and revenue surprise. Source: Alibaba investors relations and Seeking Alpha
As for earnings, $1.40 this quarter was well ahead of the $1.07 consensus, but it should be noted that earnings growth is slowing. The ramp up in growth seen during 2016 and 2017 has been followed by a slowing during 2018. This has been caused by slowing revenue growth and operating expenses that have been larger than before.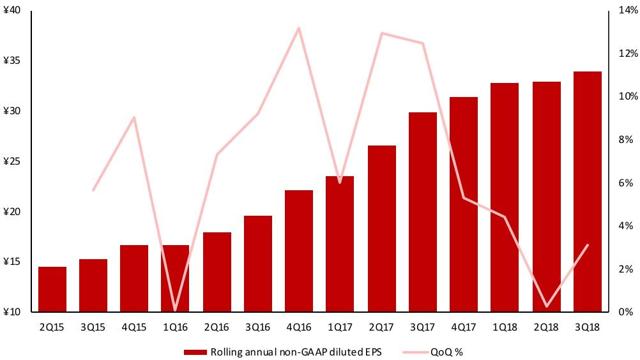 Rolling sum of the most recent four quarters of non-GAAP diluted EPS, and the quarterly growth rate. Units: RMB. Source: Alibaba investor relations
Expanding China commerce into less-developed areas
A key point from the prepared statements of CEO Daniel Zhang is that the Taobao business is expanding further into rural China; something that has been going on for a while but likely accelerated by the rapid growth of Pinduoduo (PDD). In the most recent quarter, 75% of new Taobao customers came from these regions.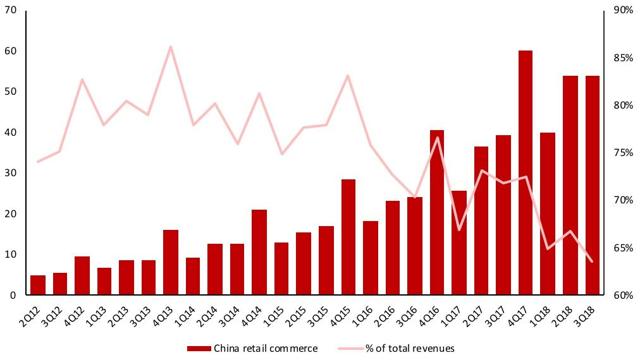 China retail commerce revenues. Units: RMB billions. Source: Alibaba investor relations
On the one hand, it's an important move for Alibaba. I don't believe it can successfully expand its ecommerce platforms overseas, such is the dominance of Amazon (AMZN) and because Chinese firms have a long history of being strategically trapped within their borders. A quick look at Baidu's (BIDU) expansion into Japan, Egypt or Brazil tells a common story. Therefore, by targeting new customers in China, it is a new revenue source.
However, there's an issue with this strategy because, as we've seen with Pinduoduo, these consumers have low annual spending on ecommerce platforms. Pinduoduo's annual spend per active customer is around 10% of JD.com's (JD). I believe that this has been a cause of the slowing revenue – particularly from China commerce – and the growing expenses, which have led to slower earnings growth. While not disclosed any more, I believe the effect is best seen in the firm's monetization rate, i.e. the revenue generated from the average user's transactions, which would be seeing slowing growth.
Expectations for Singles' Day
I want to highlight an interesting relationship between Alibaba's calendar third quarter China commerce revenues and Singles' Day sales. Logically, it would make sense that lower-than-expected China commerce revenues in the third quarter would be due to consumers delaying purchases ahead of the big Singles' Day sales event on November 11. Why buy in September when you can get a 30/40/50+% discount in November? In other words, there should be a negative correlation between China commerce revenues and Singles' Day sales.
However, that doesn't seem to be the case. In fact, the correlation is positive. The growth of China commerce revenues in Q3 is similar to the growth of Singles' Day transactions. This is a disappointing sign for those – including myself – expecting a blowout Singles' Day because a slowdown in annual Q3 revenue growth usually leads to a slowdown in Singles' Day growth.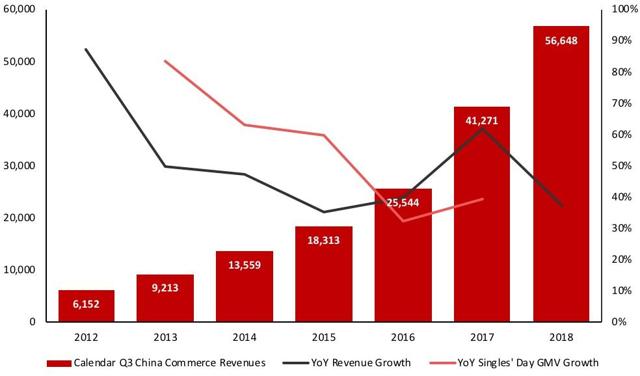 Calendar third quarter China commerce revenues and their growth, as well as the year-on-year growth in Singles' Day transactions. Units: RMB millions. Source: Alibaba investor relations.
November 11 will be the day to see whether this trend holds.
—–
Readers can find my other calendar Q3 earnings previews and reviews of Chinese firms, asset managers and investment banks here.
Disclosure: I/we have no positions in any stocks mentioned, and no plans to initiate any positions within the next 72 hours.
I wrote this article myself, and it expresses my own opinions. I am not receiving compensation for it (other than from Seeking Alpha). I have no business relationship with any company whose stock is mentioned in this article.