It's been over five months since my initial update on commercial mortgage REIT, TPG RE Finance Trust, Inc. (TRTX). As you may recall, I wrote shares in this company on January 22nd in which I explained,
"I really like TRTX because (1) the business model is simple, underwriting senior secured loans, (2) the loan portfolio is ultra-safe (weighted average LTV of 59.2%and weighted average credit spread for the loan portfolio was LIBOR plus 4.8%,)(3) the external management team is experienced, with two execs previously at LADR, and (4) the dividend yield is 8% and growing…"
In case you forget, TRTX was boasting a dividend payout of $.38 per share in my previous article, and in March the company announced it was increasing it to $.42 per share (payable on April 25th). This is a 10.5% increase from the prior dividend, and of course this is what prompted me to use the Josh Peters inspired quote for this article,
"The Safest Dividend Is The One That's Just Been Raised".
Now keep in mind, there are quite a few other things that I like about TRTX and the purpose for this article is to open up the hood again and determine how the company performed in Q1-18. In addition, I need to evaluate this commercial mortgage REIT alongside the closest peers in an effort to determine whether or not I will maintain my current BUY recommendation.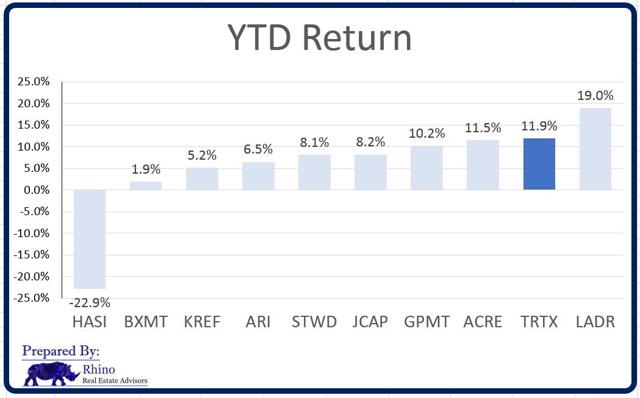 As you can see (above), TRTX has been a great pick and I am so glad that I took the time to include this new REIT in our research. While many of our traditional equity REITs have lagged YTD, TRTX and Ladder Commercial (NYSE:LADR) have proven to be excellent names to own.
While dividend growth is not expected for most commercial mortgage REITs, LADR and TRTX have demonstrated their worth by providing investors with sizable boosts of confidence. It should be no surprise that a company's price performance is oftentimes directly correlated to dividend growth.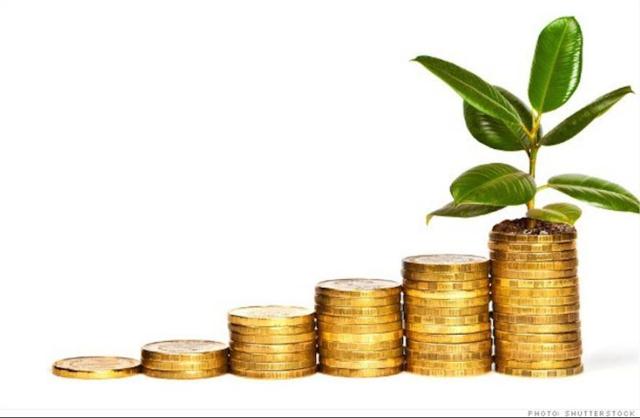 The New Kid In Town
TRTX was incorporated in October 2014 and commenced operations in December 2014 with $713.5 million of equity commitments from seven third-party investors, many of which have significant investment relationships with funds sponsored by TPG, and $53.7 million from TPG affiliates.
In December 2014, the company acquired a controlling interest in an initial portfolio of commercial real estate loans representing $1.9 billion of unpaid principal balance and an additional $635.9 million of undrawn loan commitments. The company funded the purchase with proceeds from an initial share issuance to the initial investors and match-indexed seller financing structured as a non-recourse collateralized loan obligation.
TRTX operates its business as one segment which directly originates and acquires commercial mortgage loans and other commercial real estate-related debt instruments. The company made an election to be taxed as a REIT for U.S. federal income tax purposes, commencing with its initial taxable year ended December 31, 2014.
TRTX is externally-managed, since inception it has been managed by TPG RE Finance Trust Management, L.P., an affiliate of TPG. The company's senior leadership team is comprised of TPG employees and is led by Greta Guggenheim, CEO and president, and partner of TPG.
Interesting to see that Ms. Guggenheim was also a co-founder of Ladder Capital and was president of Ladder from its formation in October 2008 through June 2012, when she was appointed chief investment officer.
TPG is a leading global alternative investment firm founded in 1992 with over $72 billion of assets under management as of December 31, 2016. TPG currently has over 500 investment and operating professionals based across 17 offices worldwide, including San Francisco, Fort Worth, New York, Boston, Dallas, Houston, Austin and London. TPG operates a global alternative investment platform that encompasses private equity, private credit and real estate.
So, as you can see, TRTX has deep experience in sourcing commercial real estate loans and two of the senior management executives were formerly affiliated with Ladder.
The Differentiated TRTX Platform
TRTX focuses on financing properties that are underserved by regulated financial institutions and other traditional commercial real estate lending firms. To do this, the REIT employs a credit-focused investment approach, with loans that are targeted for origination and investment typically have the following characteristics:
Unpaid principal balance greater than $50 million
Stabilized LTV of less than 70% with respect to individual properties
Floating rate loans tied to LIBOR and spreads of 350 to 700 basis points over LIBOR
Secured by properties that are: (1) primarily in the office, mixed use, multifamily, industrial, retail and hospitality real estate sectors; (2) expected to reach stabilization within 24 months of the origination or acquisition date; and (3) located in primary and select secondary markets in the U.S. with multiple demand drivers, such as employment growth, medical infrastructure, universities, convention centers and attractive cultural and lifestyle amenities; and
Well-capitalized sponsors with substantial experience in particular real estate sectors and geographic market
TRTX invests primarily in commercial mortgage loans and other commercial real estate-related debt instruments, focusing on loans secured by properties primarily in the office, mixed use, multifamily, industrial, retail and hospitality real estate sectors in primary and select secondary markets in the U.S., including, but not limited to, the following:
Commercial Mortgage Loans.We intend to continue to focus on directly originating and selectively acquiring first mortgage loans. These loans are secured by a first mortgage lien on a commercial property, may vary in duration, predominantly bear interest at a floating rate, may provide for regularly scheduled principal amortization and typically require a balloon payment of principal at maturity. These investments may encompass a whole commercial mortgage loan or may include a pari passu participation within a commercial mortgage loans.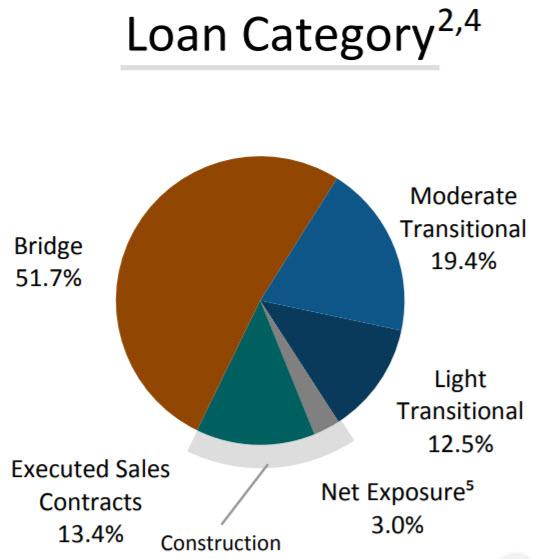 Other Commercial Real Estate-Related Debt Instruments.Although we expect that originating and selectively acquiring commercial first mortgage loans will be our primary area of focus, we also expect to opportunistically originate and selectively acquire other commercial real estate-related debt instruments, subject to maintaining our qualification as a REIT for U.S. federal income tax purposes and exclusion or exemption from regulation under the Investment Company Act, including, but not limited to, subordinate mortgage interests, mezzanine loans, secured real estate securities, note financing, preferred equity and miscellaneous debt instruments/
TRTX's portfolio currently consists of predominantly floating rate first mortgage loans secured by multi-family, hotel, office, industrial, condominium, mixed use, retail and other assets.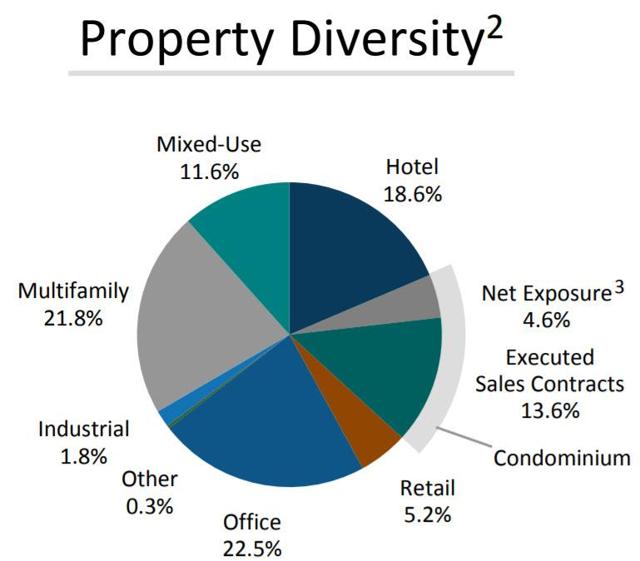 The allocation of capital among the target assets will depend on prevailing market conditions at the time the company invests and may change over time in response to different prevailing market conditions. As illustrated below, the company has a national, major market footprint: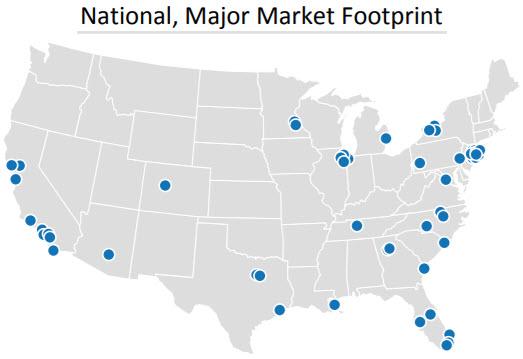 TRTX originates and acquires large (> $50M) floating rate, commercial mortgage loans on properties in transition (12-24 months). Although externally-managed, the company benefits significantly from the relationship with TPG generally through the firm's extensive network of relationships, its deep capital markets experience, its demonstrated capital stewardship and its commitment of resources to the Manager.
TPG's broad-based experience and reputation as an alternative asset management firm benefit the REIT by providing access to off-market origination and acquisition opportunities, as well as the Manager's and its affiliates' market expertise, insights into macroeconomic trends and intensive due diligence capabilities, all of which help discern broad market conditions that frequently vary across different markets and credit cycles.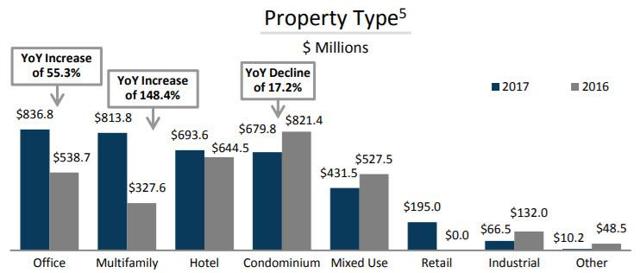 TRTX's preferred asset type is multifamily, particularly workforce housing given strong supporting demographics in this income cohort and a relative shortage of supply. The multifamily sector is highly stable, and it's much less volatile than other property types during the recession.
Affordable and workforce housing experiences little new supply, and TRTX finds the supply-demand dynamics of this sector highly attractive and the company anticipates continued penetration in the multifamily sector.
TPG's substantial equity investment in the REIT strongly aligns its interest with the interests of stockholders. TPG and its affiliates beneficially own approximately 12.3% of the outstanding stock and three of the REIT's seven directors are partners of TPG.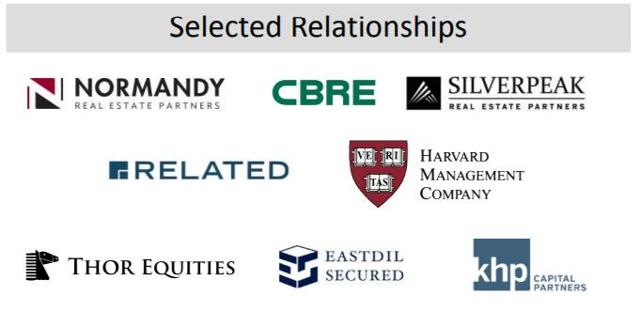 The REIT also benefits significantly from relationships with TPG Real Estate Partners, TPG's real estate equity investment platform, which has more than $5.5 billion in assets under management and employs 27 professionals across TPG's New York, San Francisco and London offices.

TPG Real Estate Partners focuses primarily on investments in companies with substantial real estate holdings, property portfolios, and select single assets primarily located in North America and Europe. Employing a value-add approach to investing, TPG Real Estate Partners leverages the full resources of TPG's global network to optimize property performance and enhance platform capabilities.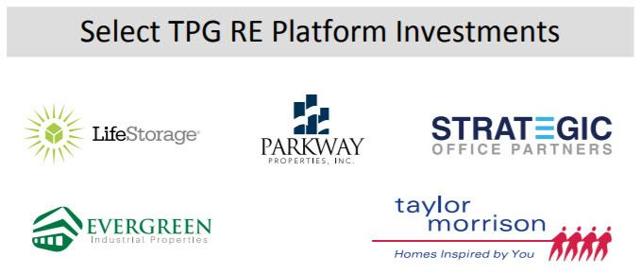 Through its investments in various real estate operating platforms, including, without limitation, Parkway Properties (PKY), Taylor Morrison Home Corporation (TMHC), Evergreen Industrial Properties, Strategic Office Partners and Cushman & Wakefield, TPG Real Estate Partners provides direct insights to help inform views on specific markets, economic and fundamental trends, sponsors, property types and underlying commercial real estate values.
In summary, I consider TRTX similar to Blackstone Mortgage Trust, except that TRTX makes smaller loans ($50 million+) and focuses just on US assets. Both REITs are predominantly senior-secured lenders which makes the business model much simpler to understand.
Rigorous Credit Underwriting and Structuring Capacities
TPG (external manager) has established a thorough and disciplined credit culture, reflected in the process through which each investment is evaluated, that takes a bottom-up, equity-oriented approach to property underwriting.
As part of the underwriting process, the Manager performs detailed credit and legal reviews and borrower background checks and evaluates each property's market, sponsorship, tenancy, occupancy and financial structure, and engages independent third-party appraisers, engineers and environmental experts to confirm underwritten property values and assess the physical and environmental condition of the loan collateral.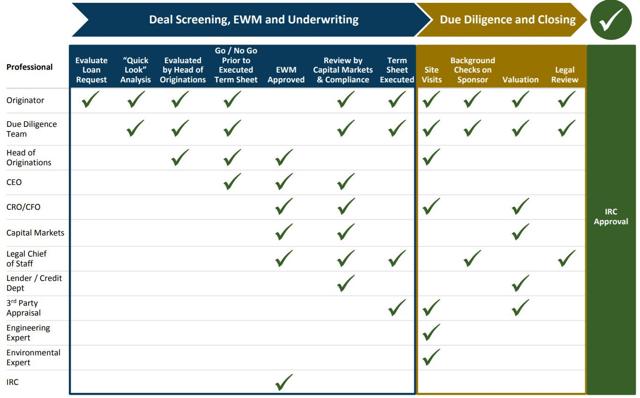 Prior to closing on a loan, the Manager's deal team inspects each property and assesses competitive properties in the surrounding market. The Manager's process culminates with a comprehensive review of each potential investment by the Manager's investment committee.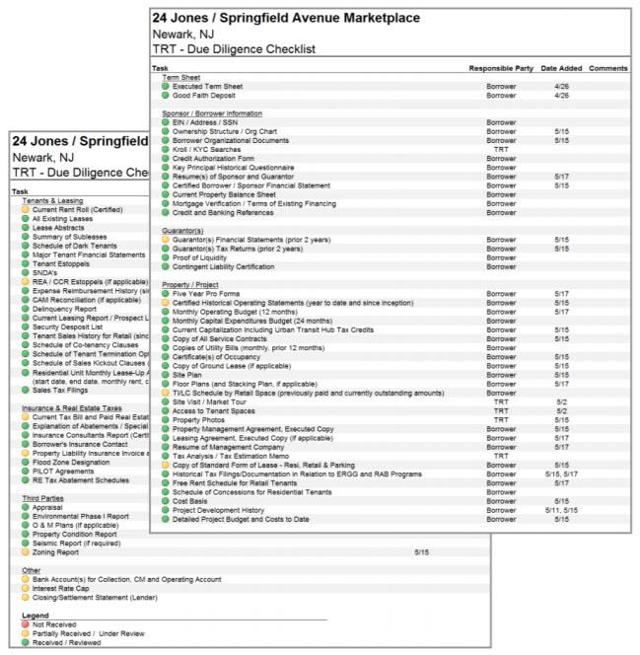 Sources and Uses
For Q1-18 TRTX's asset level leverage, defined as borrowings divided by the unpaid principal balance of loan investments, rose to 71.3% from 65.1% in the prior quarter. The CLO, which is levered at 80%, was a big driver, but so were higher advance rates in a number of newly originated loans. For loan investments pledged during the first quarter, the lender-approved weighted average advance rate was 77%.
TRTX's debt-to-equity ratio rose to 2.14:1 from 1.71:1 during the previous quarter, another clear indication of the prudent application of increased leverage as a key ingredient of the company's strategy. Using the momentum of recent CLO, TRTX is aggressively pursuing differentiated ways to further reduce cost of funds, extend the maturity of liabilities and enhance the flexibility needed to remain a leader in the transitional lending space.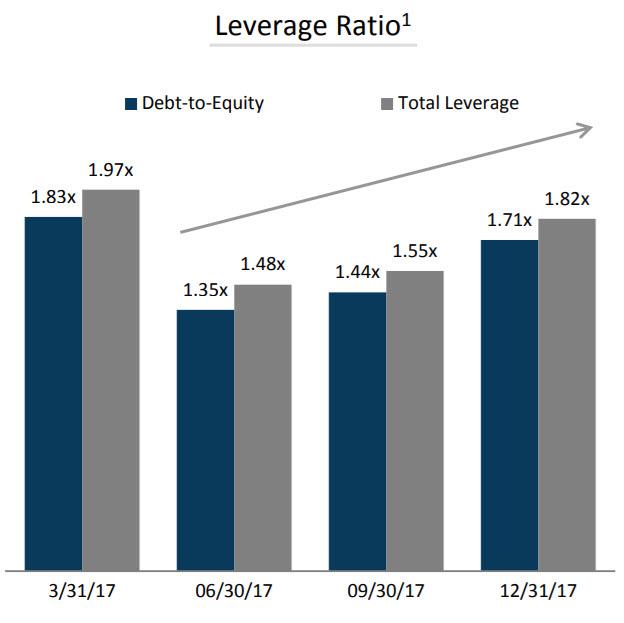 For the $579 million of new loan originations in Q1-18, the weighted average credit spread was 376 basis points as compared to 418 for Q4-17. For the entire portfolio, the comparable measure is 452 basis points.
Loan repayments in Q1-18 totaled $156.2 million in line with expectations and a meaningful share of loan repayments for the remainder of 2018 will be driven by accelerating repayments of the condo construction loan portfolio, where TRTX has virtually no net exposure.
In terms of investment capacity, at quarter-end, TRTX's liquidity and capital position was strong. In addition to cash balances of $74.4 million, the company has $1.2 billion of available financing capacity under its five secured repurchase facilities and one secured warehouse facility for a total of almost $2.8 billion of commitments.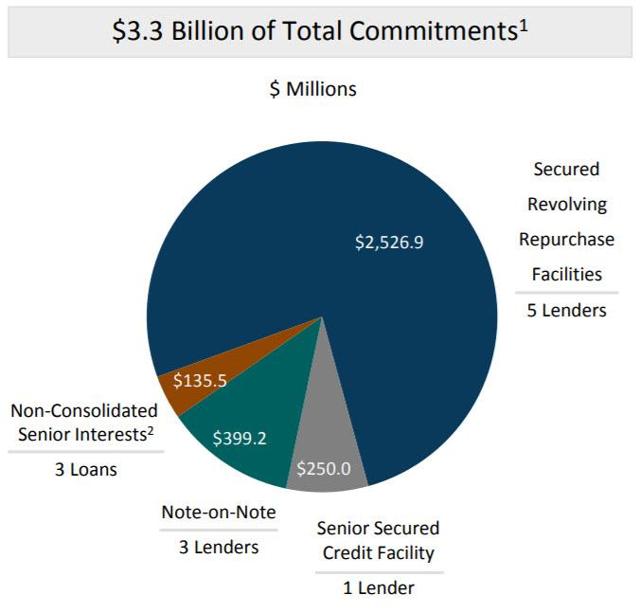 TRTX recently amended all of its primary borrowing arrangements to harmonize the financial covenants. The principal impacts were: (1) a reduction in minimum liquidity from a hard $50 million requirement to the greater of $10 million or 5% of recourse indebtedness. (2) TRTX also negotiated for an increase in allowable total leverage from 3 to 3.5:1. Assuming asset leverage – level leverage of 3.5:1, TRTX's estimated potential new loan investment capacity based on current capitalization and no loan repayments is approximately $1.2 billion.
TRTX's weighted average risk rating of the portfolio at quarter-end was 2.7. The company had no loans on non-accrual status nor were any impaired. Consequently, TRTX did not record a reserve for loan loss in the quarter nor has since inception.
Show Me The Money
Now let's take a look at TRTX's dividend yield compared with the peers: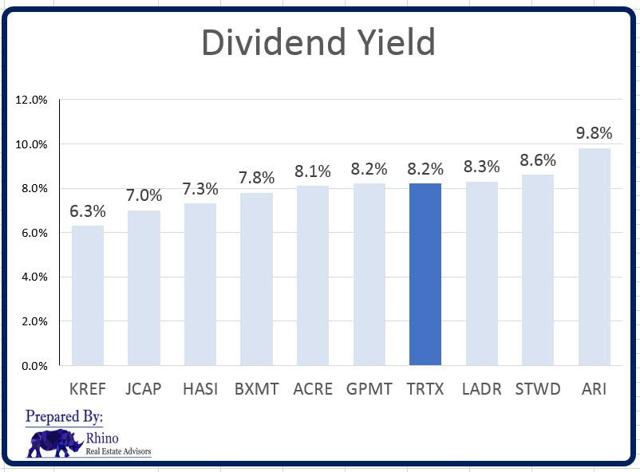 As you can see, TRTX's dividend yield is very competitive, and when you consider the company's outstanding risk profile, it's plain to see that the management team is performing beyond expectations. I like what the CEO had to say on the recent earnings call,
"I'm very much a follower of Howard Marks letters, and I do believe in times like this, you do not stretch on deals. And we're very disciplined with that, but we are still able to have a very robust pipeline with already, for this quarter, $650 million of loans that are likely to close in the next couple of weeks.

So I just think – we're going have to demonstrate it to you quarter-after-quarter, and we're working really hard to do it. But I think every shop has its differences, and I think ours is that we are – have been consistently, throughout our careers, balance sheet lenders. We didn't switch to this career late cycle, and I truly believe that gives us a competitive advantage."
There you have it, TRTX is a solid commercial mortgage REIT and I like the simplicity of the platform. Given the substantial experience of the management team this REIT should be able to maintain a consistent platform, while maintaining a sound risk profile. The 8.2% fits squarely in our Durable Income Portfolio and we are maintaining a BUY.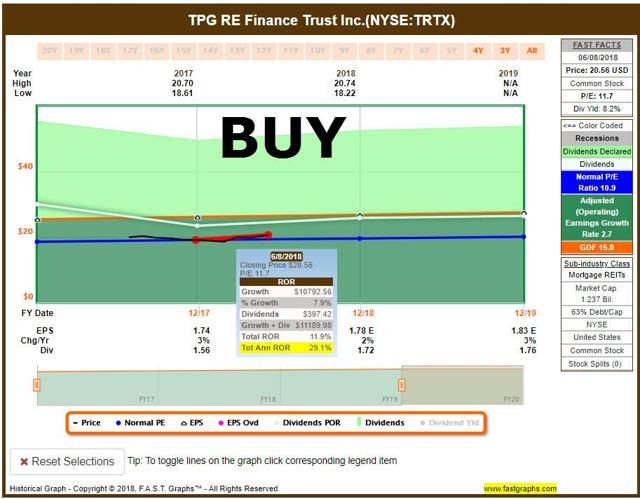 Other REITs mentioned: (KREF), (JCAP), (HASI), (ACRE), (GPMT), (STWD), and (ARI).
All Strong Buy picks can be viewed in my Marketplace service (The Intelligent REIT Investor).
Note: Brad Thomas is a Wall Street writer, and that means he is not always right with his predictions or recommendations. That also applies to his grammar. Please excuse any typos, and be assured that he will do his best to correct any errors, if they are overlooked.
Finally, this article is free, and the sole purpose for writing it is to assist with research, while also providing a forum for second-level thinking. If you have not followed him, please take five seconds and click his name above (top of the page).
Source: FAST Graphs and TRTX Investor Presentation.
Disclosure: I am/we are long ACC, AVB, BHR, BRX, BXMT, CCI, CHCT, CIO, CLDT, CONE, CORR, CTRE, CUBE, DEA, DLR, DOC, EPR, EXR, FRT, GEO, GMRE, GPT, HASI, HT, HTA, INN, IRET, IRM, JCAP, KIM, KRG, LADR, LAND, LMRK, LTC, MNR, NNN, NXRT, O, OFC, OHI, OUT, PEB, PEI, PK, PSB, PTTTS, QTS, REG, RHP, ROIC, SBRA, SKT, SPG, STAG, STOR, TCO, TRTX, UBA, UMH, UNIT, VER, VNO, VNQ, VTR, WPC..
I wrote this article myself, and it expresses my own opinions. I am not receiving compensation for it (other than from Seeking Alpha). I have no business relationship with any company whose stock is mentioned in this article.