Investment Thesis
Tesla (TSLA) moves at the exponential pace of innovation, which means most observers who think linearly will overestimate its growth in the near term and underestimate its potential in the longer term. In this article, I use Model 3 production ramp to illustrate this point.
Ramp, Part Un
Tesla started the Model 3 production ramp in July of 2017, and on July 28, it delivered the first 30 cars to employees at its Handover Event.
Since then, the stock price has been stuck in a trading range as the company struggled to ramp Model 3 production as was predicted by management and expected by investors: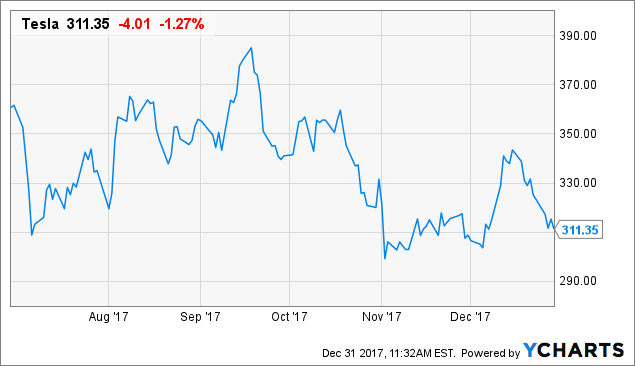 Sometime in the next 72 hours, the company will release its Q4 2017 Vehicle Deliveries and Production report. We will all soon see if Model 3 production ramp resembles that of Model S (relatively on-time which led to a major short squeeze in 2013) or Model X (marred by uncertainty that led to large stock price volatility in early 2016).
As I explained to Tesla Forum members in Model 3 Forecast Update, my Base case expectation is for the company to stick to its revised guidance of 5,000 units per week by March. I also provided an Optimistic scenario, which is supported by several observations, as well as a Conservative scenario for 2018 through 2025.
If my Base scenario expectation plays out, Tesla will have gone from zero to 5,000 units per week in eight months at a cost of more than $2 billion in CapEx, which was needed to build out the company's Gigafactory and the Model 3 assembly line at Fremont; in other words, going from Zero to One.
Ramp, Part Deux
Many sell-side analysts expect the company to take even longer to go from 5,000 per week to 10,000 per week. For example, even Gene Munster, who has deemed Tesla the best bet in large cap tech, does not expect weekly Model 3 production rate to reach 10,000 until the end of 2021. This forecast, in my opinion, is unreasonably conservative.
Let's quickly review the relevant management commentary from the previous earnings calls:
What people should absolutely have zero concern about is that Tesla will achieve a 10,000 unit production week by the end of next year.
I note that the above comment was provided before the battery module production bottleneck surfaced in 3Q17; nevertheless, it is an important data point, which shows what is possible if in fact Model 3 production ramp soon accelerates, as I discussed in my recent article Is Tesla's Model 3 Back On Track?
In addition:
It's worth noting that some of our manufacturing areas we're actually seeing capabilities that we estimate in the 6,000 unit to 7,000 unit per week capability, well in excess of the 5,000 unit capability and we're optimistic with further optimization that many of our production processes will meet very little and in some cases no, so I'm not saying no, but almost no CapEx to reach something close to 10,000 units a week.
It will have cost Tesla more than $2 billion in capital expenditures to ramp Model 3 production from zero to 5,000 units per week, but the subsequent round will likely cost a lot less. How much less? Check this out:
But I would say it's going from 5,000 to 10,000 is probably – this is a total wild-ass guess, so right way to think about, but it's like somewhere between 50% to 70% of the cost of the 5,000 line.
In other words, it may cost Tesla as low as $1 Billion to ramp from 5,000 units to 10,000 units per week. This is a significant observation, as Tesla's growth was limited by capital availability until 2017.
Readers should note, however, that, as I discussed in Tesla Q3 2017: Revising My Projections, I expect Tesla to turn GAAP profitable at some point in the middle of 2018, potentially further allowing the company to accelerate its growth rate.
Bottom Line
Analysts both on the bull and bear sides of the isle may be vastly overestimating how long it will take Tesla to go from 5,000 to 10,000 weekly Model 3 production rate. My Base scenario assumes Tesla will achieve this second part of the ramp by the end of 2018, despite the short-term hiccups in the first half of the production ramp.
Follow For Free Articles
If you enjoyed this article, please scroll up to the top of the page and click the "Follow" button next to my name. Your support will allow me to invest further time and resources into creating proprietary research for you.
Premium Research
If you're interested in learning about my investment methodology as well as high-quality fundamental research on Tesla, supported by detailed financial projections by product and service line, including years 2019 and beyond, as well as timely price target alerts and weekly Live Chat community discussions, join Tesla Forum. I'm confident that you will find my research to be very insightful, and I look forward to discussing ideas with you.
Disclosure: I am/we are long TSLA.
I wrote this article myself, and it expresses my own opinions. I am not receiving compensation for it (other than from Seeking Alpha). I have no business relationship with any company whose stock is mentioned in this article.